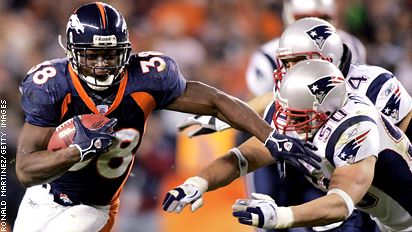 So apparently former Bronco
Mike Anderson
has been
suspended from the NFL
for at least a year for a repeat violation of the league's substance abuse policy. It's unfortunate for a guy who had such a great story -- plays drums in his high school marching band, doesn't start playing football until after he joins the
Marines
, sets school records at the
University of Utah
, gets drafted in the sixth round of the 2000 draft by the Broncos, then goes on to win Offensive Rookie of the Year.
The guy was a tremendous team player while he was in Denver, willing to do whatever was asked of him on the field. Sadly, he was suspended for four games in 2003 for substance abuse issues and now he seems to have succumbed to drug problems again. He was already without a team since the Ravens
released him
in February, and at the age of 34 his NFL career is likely over.
I remember escorting a VIP group of corporate sponsors at training camp in 2001. There was one kid in the group who was very excited to get player autographs on a football he'd brought, and got several as the players headed to the locker room after practice was over.
I then took the group to eat in the lunch room where the players also ate. The rule in the lunch room was no autographs, which I explained to the kid and his dad. Lunch was supposed to be a time for the players to relax.
We sat right next to the tray return, and as we were eating Mike Anderson walked by. After he'd returned his tray he noticed the kid with his football, and asked with a smile if the kid would like an autograph.
Before the kid could respond I hastily thanked Mike, told him we appreciated the offer but that we knew the rules in the lunch room. Some folks in Football Operations were very touchy about that stuff, and I didn't want there to be any misunderstanding about how it all had come down and the kid or me getting into any trouble.
But Mike insisted. Even reached into his bag and pulled out his own
Sharpie
to sign the ball with.
The kid was smiling from ear to ear as he handed Mike his ball, which Mike signed and handed back to him. As the kid looked at Mike's autograph, though, his smile faded. He looked up at Mike and asked, "Do you know where
Terrell Davis
is?"
This could have easily gone south from here, but Mike just laughed and said he wasn't sure -- thought maybe Terrell was getting some treatment and would be in for lunch later. He waved and went on his way and we finished up our lunch.
I think the kid's dad was mortified. I was just grateful that Mike didn't make an issue of it. I'd seen other players go bananas over lesser slights. It impressed me that he was able to succeed in maintaining his humility when so many athletes struggle to do so. Too bad that he doesn't appear to have been able to avoid another common pitfall of professional athletes.
Best wishes getting clean and staying clean and in whatever else the future holds for you, Mike. Hopefully there's at least one kid and one dad out there who appreciate the time you took to make a visit to training camp even more special.