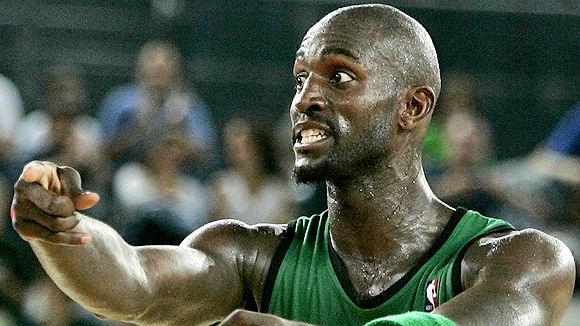 As a kid in upstate New York in the late '70s, you were pretty much a free agent when it came to forming your sports allegiances. A three-hour drive from Boston, three hours from New York City and 4 1/2 from Buffalo. There was no real "home team" so my pro sports affiliations were mostly influenced by my parents, but in inconsistent ways.
For example, my mom was a Bruins fan and a Red Sox fan, so I was, too. But something weird happened with football and basketball. My dad liked the Steelers, my mom liked the Giants, so I chose to cheer for...the Cowboys. It probably didn't hurt that they were always on TV, and that their cheerleaders were on
The Love Boat
.
My mom didn't care much about basketball, but my dad rooted for the Celtics. So I became a 76ers fan. I'm sure a therapist could have a field day with all of this stuff, but for now let's just accept that it is what it is.
The Celtics got the best of the Sixers more often than not, but that was all right by me. They had their one shining moment in
1983
. I even won a dollar betting Sheila Kleinmann that Philly would beat the Lakers in the NBA Finals that year. The little snot paid me with a Ziploc bag filled with 100 pennies, but I still got mine.
I really hated those '80s Celtics teams. That little punk Danny Ainge. Kevin McHale, some weird mix of Alan Alda and Frankenstein. Dennis Johnson and his freckles (
God rest his soul
). Robert Parish, even scrubs like Scott Wedman and Greg Kite. And of course, Larry Bird. Man, he bugged me -- the
mullet
, the total disdain for anything remotely athletic, and the fact that he was really, really, really good. I rooted for the Lakers to beat them when they met in the Finals, and the Pistons to beat the last remnants of that team when they met in the playoffs in the latter part of the decade.
I've held on to some of my old sports animosities. Even though I live in Denver, I don't like the Avalanche in part because they used to be the Bruins' old rival, the Quebec Nordiques. And because Patrick Roy was their goalie when we moved here and they acquired him from the Bruins' other rival, the Montreal Canadiens. And I think I'll always have a special place of loathing in my heart for the Yankees. But over the years I've softened on the Celtics.
Maybe it's because they became pretty bad and irrelevant for a while, and it's not as much fun to root against a team when they stink. Maybe Jerry Seinfeld was right that with free agency resulting in so much player movement, at the end of the day you're just
rooting for laundry
. Maybe it's because since my dad passed away back in 1998 I haven't had a Celtics fan to debate with and keep a degree of personal competition afloat. But once again, it is what it is.
Here's the real twist in this story -- I'm absolutely rooting for the Celtics to not only beat the Pistons tonight, but to win the NBA Championship. And I think the single biggest reason for that is the addition of
Kevin Garnett
.
Garnett's always been an appealing personality to me since he did his
ESPN The Magazine
and
Nike
commercials in his early years in the league. I like his nickname, "The Big Ticket." I like his intensity on the court -- ESPN writer Bill Simmons actually refers to him (affectionately, I believe) as
TCIKG
for "The Completely Insane Kevin Garnett." And I think for most casual fans, he's put himself into the category of "athletes you'd like to see win a championship before they retire." The sports media tend to like those types of stories -- see
Jerome Bettis with the Steelers
a few years ago.
Now, I'll admit I'm starting to get a little oversaturated by all the hype around "The Big Three" of Garnett, Paul Pierce and Ray Allen.
Overexposure
could result in a backlash (
David Beckham
, anyone?). And don't get me started on how the NBA completely ripped off their "
There can only be one
" playoff ad campaign from
Highlander
. But for now I'll keep pulling for the C's.
Well, for Kevin Garnett anyway. Danny Ainge is now the Celtics general manager, and he's still a little punk.
Maybe sports hostility never completely dies after all...
UPDATE: Garnett scored 33 points -- his most in this year's playoffs -- and hit a pair of free throws in the closing seconds to put the game out of reach in Boston's 106-102 win last night. I'm officially declaring being featured in this blog the anti-SI Cover Jinx.